National Ready Mix Concrete Company (NRC), a division of Lootah Group of Companies is a professionally managed organization operating for last 39 years employing more than 4000 people. We are one of the leading suppliers of Quality ready mixed concrete already supplied more than 25 million cubic meters of concrete across all the Emirates of UAE.
We are proud to be the pioneer in Ready Mixed Concrete business in the UAE, by taking an initiative in supporting the construction industry across the country. The company is successfully supplying to most of the government and private sector projects. We are successfully associated with Esteemed Organizations, Builders and Contracting Companies approved by leading promoters, consultants and the developers.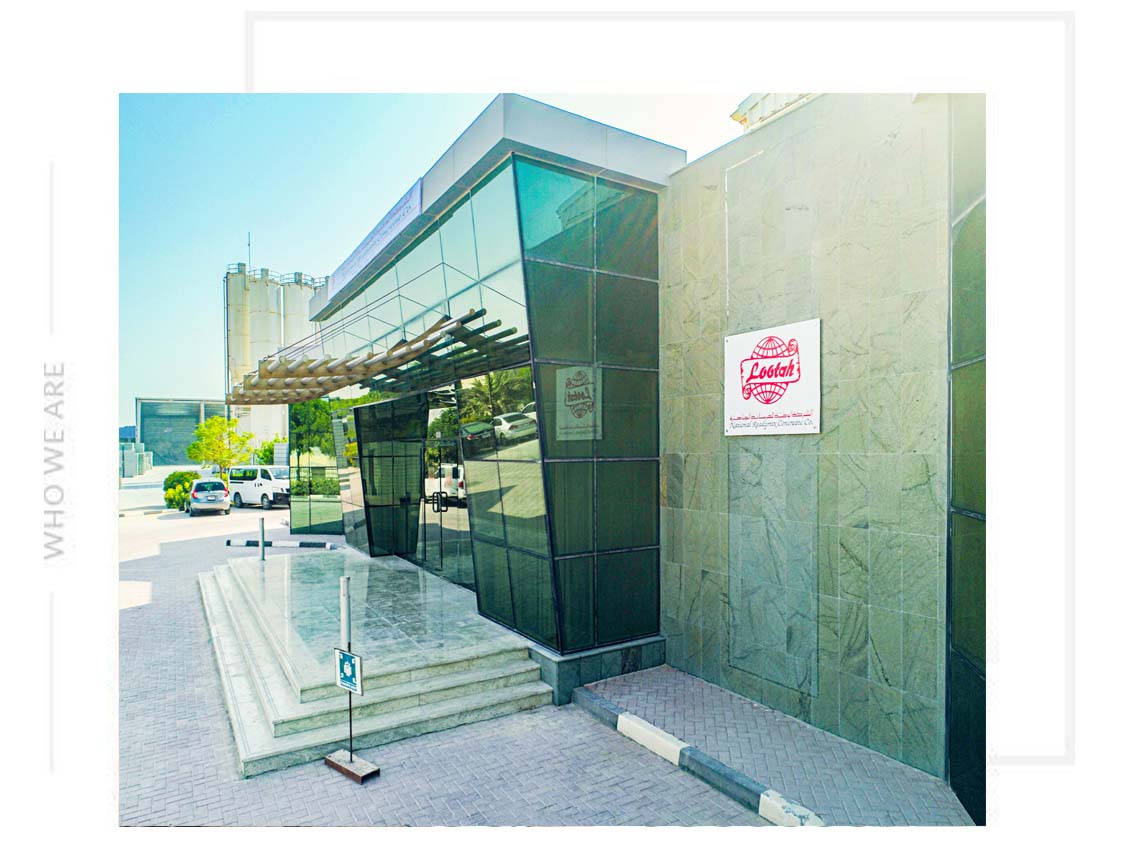 We are operating in different areas of UAE like in Sharjah, Ajman, Abu Dhabi, Umm Ramool (Rashidiya), Al Ruwayya (Dubai Al ain road) and Jebel Ali with a large fleet of latest models of 200 transit mixers, 30 mobile concrete pumps, 9 Stationary concrete Pumps, 3 Truck mounted Stationary Pumps apart from 33 Placing booms. In addition to this, we have a large fleet of cement tankers and trailers, with a centralized workshop supported by a team of Professional Engineers and Technicians. We have covered important geographical locations to all over UAE to provide supply & service. NRC has a capacity to supply in excess of 150,000 m3 of concrete per month, thus ensuring an adequate supply for all customer requirements.
To promote ready mixed industry in Cement & Concrete products backed by knowledge, technical expertise, maintaining high quality, eco friendly and sustainable construction in order to improve the standard of living quality of assets in the region.
To contribute our technical know-how and expertise in concrete for enhancing the quality and the ever increasing demands of the Construction Industry.
To develop novel methods, innovative products, concrete mixed designs, through efficient utilization of natural and eco-friendly resources in Construction.
A Customer Oriented Cosmopolitan Culture with Solid Beliefs, Values and Behaviors in continuous Quest for Opportunities.
Aside from the Government Sector, there are more than 5347 projects completed so far with major contracting companies as well as individually by National Ready Mix Concrete Company (NRC)